Certification process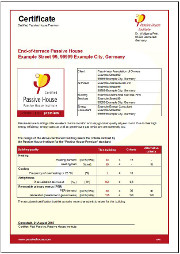 We recommend contacting a 
certifier
* 
early on in the planning process. Any problems identified by the certifier can be easily corrected at this point in time. In principle however, certification can also be applied for after completion of the building.
As a rule, all energy-relevant planning documents and technical data of the construction products are submitted before the start of construction work. After careful checking and comparison with the energy balance calculation, the certifier will provide information about any necessary corrections. 

After completion of the construction, any changes in the planning will be updated and documents relating to construction (airtightness test, documentation of flow rate adjustment, construction manager's declaration) will be checked during the final inspection.
If all criteria are met, the building owner will receive the following:
the certificate

a supplementary booklet with documentation of the energy balance calculation and all relevant characteristic values of the building  

a plaque (optional)
 
Step-by-step retrofits with the EnerPHit Retrofit Plan
Many building owners do not want to undertake a complete renovation, but rather upgrade only each building component as repairs are otherwise required. Here it is often possible to reach a high level of energy efficiency at low additional costs, using Passive House components. Before the process begins, an overall plan should however be completed ahead of time, for the current as well as all future retrofit steps which will be undertaken. This is the only way to be sure that everything will fit together and that the owner can count on having a comfortable building with low energy costs once the final step is completed.
The EnerPHit Retrofit Plan (available on the PHPP-CD) provides a methodology for this type of overall plan. For additional quality assurance, the Passive House Institute offers a pre-certification as an EnerPHit (or a Passive House) project. This requires a well-established EnerPHit Retrofit Plan, where the first retrofit step has already been implemented with minimum energy savings of at least 20 %. The pre-certification provides assurance to the owners and planners that following the implementation of all retrofit steps, the desired Standard will have been reached.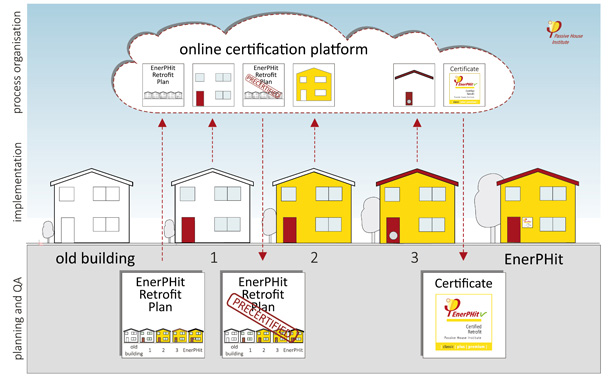 Graphic: © Passive House Institute
Building criteria (

 pdf 723 KB)
Building criteria in other languages

Advantages of certification
Consulting
Energy standards
Building certifiers