Benefits of building certification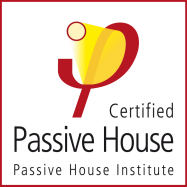 The Passive House is not a compulsory standard which is established by law or through ordinances, it is a standard which is complied with on a voluntary basis, and which is defined clearly and unambiguously: the Passive House Institute has formulated criteria for Passive Houses for different building uses. These are only so-called "functional criteria", i.e. instead of individually specifying constructional or technical details, it requires that overall planning is carried out with a professionally calculated energy balance, elaboration of the details and documentation of components. This ensures that the planned building actually does perform as it is expected to.

Careful planning
Certification is intended to ensure a good quality of work. The key focus here is on planning, because only practically-oriented planning can be turned into a functioning building on site. Airtightness, absence of thermal bridges, high quality windows and their installation, the ventilation system and other building services must all be planned and coordinated with each other in a targeted approach (amongst experts this is known as integral planning).
The Passive House Planning Package – the planning tool
The main tool for this purpose is the Passive House Planning Package (PHPP). The experience acquired during decades of successful Passive House planning has been put together in the PHPP. Anyone using the PHPP during planning is guided towards coordinated and effective solutions and also benefits from the opportunity for cost-effective construction at the same time. Making responsible use of the PHPP also necessitates documentation of the chosen solutions and determination of the relevant parameters (e.g. heat transfer coefficients of the glazing). The planner can take these values from independent test reports. However, if the building components have been certified as "Certified Passive House Components, then the values given in the certificate can simply be transferred into the PHPP.
Benefits of certifying a planned Passive House for the designer and building owner
The designer can draw on the knowledge gathered from decades of expertise by the qualified certifier, thus facilitating the planning process.
In the process of certification, the designer receives valuable hints on how quality can be improved, and how solutions can be simplified and implemented in a better and more cost-effective way.
With a certificate issued by the Passive House, the building owner can be certain that his/her building finally does turn out to be a Passive House, and investment in higher quality components thus pays off.
It often happens that the support provided by an experienced Passive House certifier results in a more economical building.
The certificate
After completion of the quality assurance process, which is usually after the pressure test has been carried out, the client receives a certificate and a certification booklet containing the pages of the PHPP that are relevant for the certificate. It is also a comprehensive documentation for the building with reference to its thermal characteristics. A Wall plaque which can be attached to the building is also handed to the client.
Wall plaque for certified Passive Houses
Other certifiers accredited by the Passive House Institute