Passive House Institute accredited Building Certifiers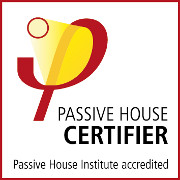 The following experts* have been internationally accredited by the Passive House Institute (PHI) to certify in the name of PHI anywhere in the world according to PHI standards for Passive House buildings and EnerPHit retrofits.
The Passive House Institute itself carries out both Passive House and EnerPHit retrofit building certifications.
For more information please contact PHI at building.certification[at]passiv.de.
The Passive House Institute makes its knowledge available to everyone. Its research, its certification and training programmes, as well as the distribution of its planning tools such as the Passive House Planning Package (PHPP) and designPH can thus not be claimed as a monopoly by any single local entity. The Passive House Institute does not enter into exclusive contracts. It is happy to co-operate with suitable partners at any time, provided all necessary conditions and requirements are met. You are welcome to contact the Passive House Institute directly with any questions regarding partnerships, the certification of professionals, buildings, or building components, as well as all relevant consultancy services.

* Unless otherwise stated, Building Certification contracts are made out between the PHI and individual experts, not the organisations that employ them / that they represent.
Energieinstitut Vorarlberg
ÖSTERREICH

Eckert Drössler
Sprachen: DE | EN
Angelika Rettenbacher
Sprachen: DE | EN
Michael Braun
Sprachen: DE | EN
www.energieinstitut.at
Österreichisches Institut für Bauen und Ökologie GmbH (IBO)
ÖSTERREICH

Dr. Bernhard Lipp
Sprachen: DE
Maria Fellner
Sprachen: DE | EN
Thomas Zelger
Sprachen: DE | EN | IT
www.ibo.at
ECORCE
BELGIUM

Olivier Henz
Sprachen: DE | FR | EN
www.ecorce.be
Peel Passive House Consulting
CANADA

Andrew Peel
Sprachen: EN | FR | DE
www.peelpassivehouse.ca
Bjerg Arkitektur a/s
DENMARK

Søren Riis Dietz
Sprachen: DK | EN | DE
www.bjerg.nu
Passivhus.dk
DENMARK

Søren Pedersen
Sprachen: DK | DE | EN | FI | SV | NO
www.passivhus.dk
La Maison Passive France
FRANCE

Etienne Vekemans
Sprachen: FR | EN | DE
www.lamaisonpassive.fr
B.Tec
Deutschland

Prof. Dr. Harald Krause
Sprachen: DE | EN
Dipl.-Ing. Sandra Neumann
Sprachen: DE | EN
www.btec-rosenheim.de
Ecofys Germany GmbH
Deutschland

Dr. Andreas Hermelink
Sprachen: DE | EN
www.ecofys.de
Energie Planer Team
Deutschland

Enikö Sariri-Baffia
Sprachen: DE | HU
www.passivhaus-info.eu
eza! service GmbH
Deutschland

Peter Andreas-Tschiesche
Sprachen: DE | EN
Steffen Riedel
Sprachen: DE | EN
www.eza.eu
Herz & Lang GmbH - Die Planer für energieeffizientes Bauen
Deutschland

Florian Lang
Sprachen: DE | EN
Joachim Blaas
Sprachen: DE | IT
Raphael Vibert
Sprachen: DE | EN | FR
www.herz-lang.de
ebök Planung und Entwicklung GmbH
Deutschland

Thomas Kirtschig
Sprachen: DE | EN | (ES)
Matthias Laidig
Sprachen: DE | EN
Jochen Zeller
Sprachen: DE | EN
www.eboek.de
Passivhaus Dienstleistung GmbH
Deutschland

Martin Such
Sprachen: DE
Rachid Bhourmara
Sprachen: DE
Jan Messenbrink
Sprachen: DE | EN
www.passivhaus-info.de
Rongen Architekten GmbH
Deutschland

Reiner Wirtz
Sprachen: DE | EN | (FR)
www.rongen-architekten.de
ZEBAU GmbH
Deutschland

Lars Beckmannshagen
Sprachen: DE | EN
www.zebau.de
MosArt Ltd.
IRELAND

Tomás O'leary
Sprachen: EN | GA
www.passivehouseacademy.com
ZEPHIR srl
ITALY

Francesco Nesi
Sprachen: IT | DE | EN | FR
www.zephir.ph
Polski Instytut Budownictwa Pasywnego i Energii Odnawialnej imienia Güntera Schlagowskiego NON PROFIT Sp. z o.o.
POLAND

Cezary Sankowski
Sprachen: PL
Lukasz Smol
Sprachen: PL
Andrzej Gorka
Sprachen: PL
www.pibp.pl
Institút pre energeticky pasívne domy IEPD
SLOVAKIA

Lorant Krajcsovics
Sprachen: SK | EN | DE
www.iepd.sk
ENERGIEHAUS ARQUITECTOS - DISEÑO Y FORMACIÓN DE EDIFICIOS PASIVOS S.L.
SPAIN

Micheel Wassouf
Sprachen: ES | DE | EN
www.energiehaus.es
IGPHV
SWEDEN

Ingo Theoboldt
Sprachen: DE | EN | SE
www.passivhusbyran.se
Building Research Establishment (BRE)
GREAT BRITAIN

www.passivhaus.org.uk
Cocreate Co-operative Ltd.
GREAT BRITAIN

Paul Smyth
Sprachen: EN
www.cocreateconsulting.com
Mead Energy & Architectural Design
GREAT BRITAIN

Kym Mead
Sprachen: EN
www.meadconsulting.co.uk
WARM - Low Energy Building Practice
GREAT BRITAIN

Peter Warm
Sprachen: EN
Sally Godber
Sprachen: EN
www.peterwarm.co.uk